يبدو أنك لست عضوًا في TradeKey.com بعد. اشترك الآن للتواصل مع أكثر من 7 مليون مستورد ومصدر عالميًا.
انضم الآن ، مجانًا
|
3kw MPPT Hybrid Solar Inverter Supports No Battery Working
الوصف
Introduction:
FSD-C2
solar inverter is the perfect go-to solution for off-grid, backup power for homes , small business and it also delivers a value added , easy to install system that provides efficient power globally for every need 
Features:
* High effciency pure sine wave inverter(PF=1);Wide PV range (120V dc -500V dc) 80A            MPPT  SCC; Intelligent 3stage 80A AC battery charger.
* Surges to 2X continuous power for 5 seconds for motor loads.
* Intelligent functionality enables utility and solar prioritization.
* Wide ulility range (90Vac _280Vac) for unreliable grid even in the most challenging           environments.
* Field serviceable with replacement boards and spare parts.
* Monitor, troubleshoot, or communication with USB/RS 232.
* System configures quickly into compact, wall-mounted system.
MODEL
FSD-C2 3000W
FSD-C2 5000W
RATED POWER
3000VA / 3000W
5000VA / 5000W
INPUT
 
Voltage
230 VAC
Selectable Voltage Range
170-280 VAC (For Personal Computers) ; 90-280 VAC (For Home Appliance)
Frequency Range
50 Hz/60 Hz (Auto sensing)
OUTPUT
 
AC Voltage Regulation (Batt. Mode)
230 VAC ± 5%
Surge Power
6000VA
10000VA
Efficiency (Peak)
90%~93%
Transfer Time
10 ms (For Personal Computers) ; 20 ms (For Home Appliances)
Waveform
Pure sine wave
BATTERY
 
Battery Voltage
24 VDC
48 VDC
Floating Charge Voltage
27 VDC
54 VDC
Overcharge Protection
32 VDC
63 VDC
SOLAR CHARGER & AC CHARGER
 
Max. PV Array Open Circuit Voltage
500VDC
500VDC
Max. PV Array Power
4000 W
4000 W
MPP Range @operating Voltage
120~450VDC
120~450VDC
Max. Solar Charge Current
80A
80A
Max. AC Charge Current
60 A
60 A
Max. Charge Current
80 A
80 A
PHYSICAL
 
Dimension, D x W x H (mm)
100 x 300x 440
 
Net Weight(kgs)
9KGS
10KGS
Communication Interface
USB/RS232
 
ENVIRONMENT
 
Humidity
5% to 95% Relative Humidity (Non-condensing)
Operating Temperature
-10° C to 50° C
Storage Temperature
-15° C to 60° C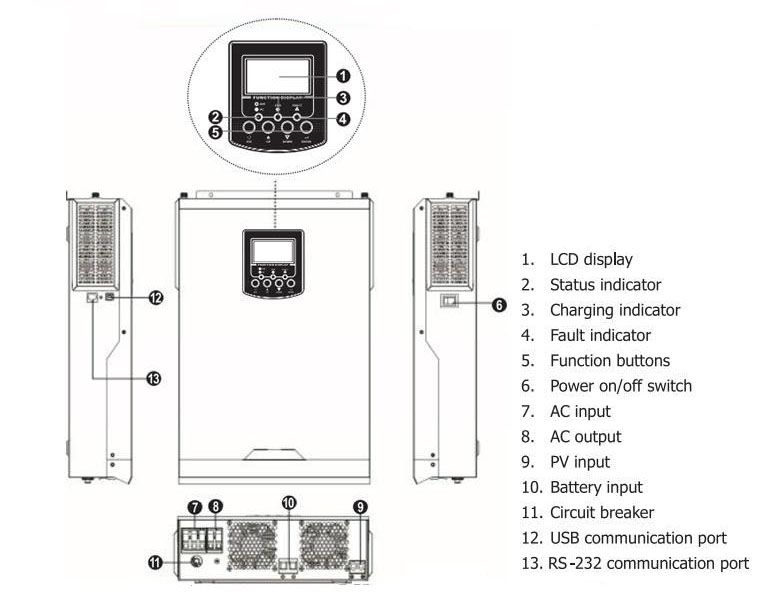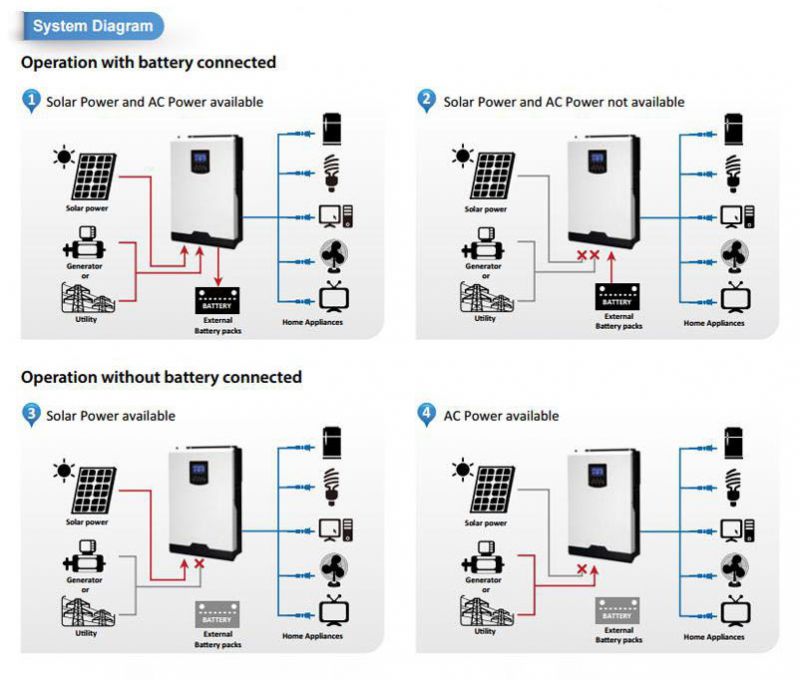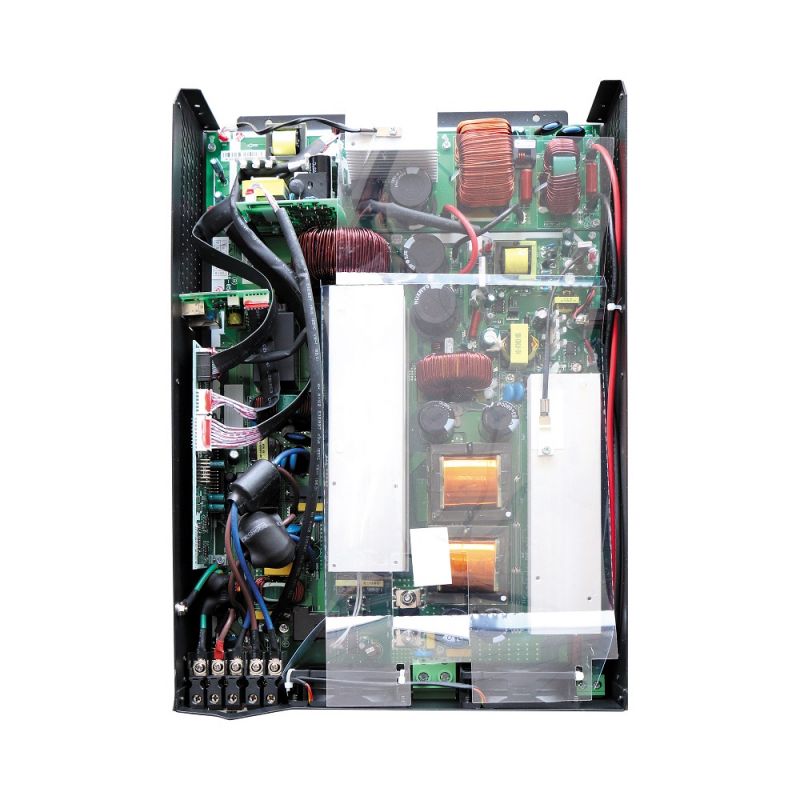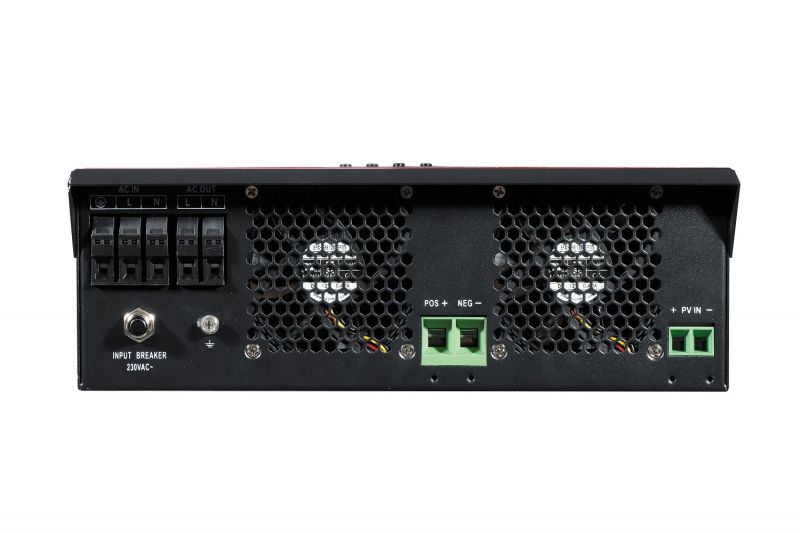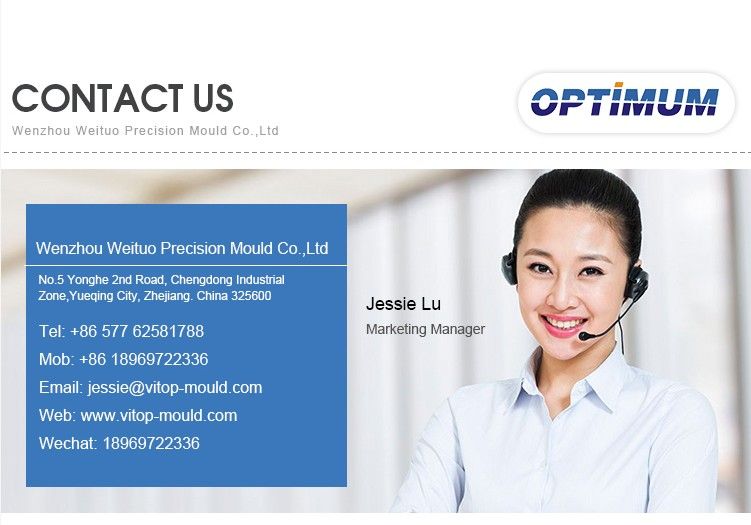 لمزيد من المنتجات من موردين آخرين

Get Verified Buyers & Suppliers
Avail Free Consultation