Weihua Group began its construction in 1988 and after efforts of 20 years it is now a large-scale enterprise group with integrated business of crane research, development, design, production, sales, installation, service and import and export. It has formed strong and comprehensive innovative system with complete set of advanced equipment and large-scale production ability in the fields of mechanic procession, thermal treatment, soldering, assembly, test, measuring, packing and delivery. Main products include more than 200 types of products of 9 series such as bridge crane, gate crane, port machine, electric hoist,Ship-to-shore crane (STS),portal crane and steel structure which are widely applied in machinery, metallurgy, power, water conservation and utilization and port industries. The product is very popular in domestic market and foreign market. Portal crane is a new product by WEIHUA Group.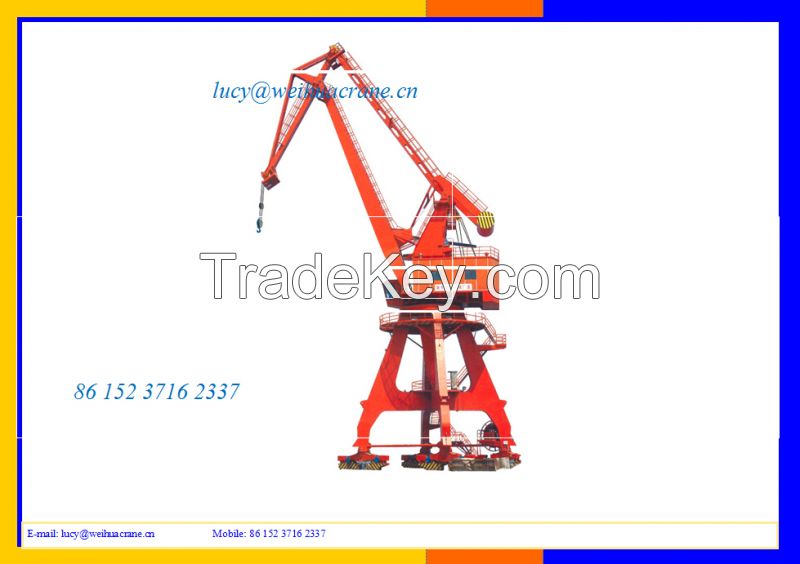 Portal crane is kind of crane used in shipyard and large factory. This machine adopts single arm shelf structure. It could work with a wide range and quick speed.
Main Introduction of Portal Crane:
Dock And Shipyard Portal Crane Working in the Open-air, It widely used in port, yard, station, stack and so on. The four link type portal crane is composed of frame, lifting mechanism, luffing mechanism, slewing mechanism, traveling mechanism, spreader device electrical equipment and other aiding devices as safety. The applied rigid rack and screw lever luffing mechanism make sure a constant working state.
Advantages of Electric Portal Crane from:
1)      Reasonable structure
2)      Favorable performance.
3)      Smooth starting and stopping
4)      Safe and reliable traveling.
5)      Low noise, commodious cabin and good view.
6)      Convenient maintenance, excellent exchange ability for parts and 
computers.
7)      Saves electricity specifications