Specifications
Professional portable facial cleanser Brush Set for personal care 
1.Waterproof 
2.CE 
3.4 Parts 
4.Portable 
Professional portable facial cleanser Brush Set for personal care ES-B201
Features
1. Using electricity to make the massage head vibrate so as to massage on the human body.
2. Beautiful, practical and affordable with novel design and exquisite packing.
3. Waterproof with strong power: convenient for bathroom usage
4. Deeply cleaning skin, effectively exfoliating of dead skin cells to reveal a radiant, youthful skin.
5. Compact and portable design, 4 replaceable applicatorsincluded:                                                                                                                                                                 
a) Big brush: Exfoliates and clean hand skin and body skin
b) Face brush: Exfoliates and clean face skin
c) Pumice: Polish and remove rough callus skin under foot or elbow
d) Sponge: Moisturize face skin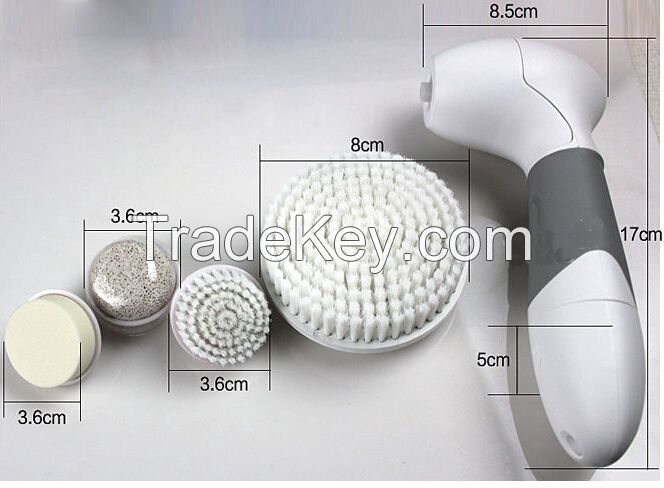 Specifications
1. Power supply: 6V, 4pcs AA batteries (not included)  
2. Unit size: 176.5*76*47mm
3. Unit weight: around 128g                      
4. Material of main case: PP
5. Gift box size: 195*146*51mm
6. Accessories: 4 replaceable applicators(big brush, face brush, pumice, sponge)