Specifications
Facial Brush 
Material: ABS 
Water-resistant for Bathroom use 
OEM & ODM services provided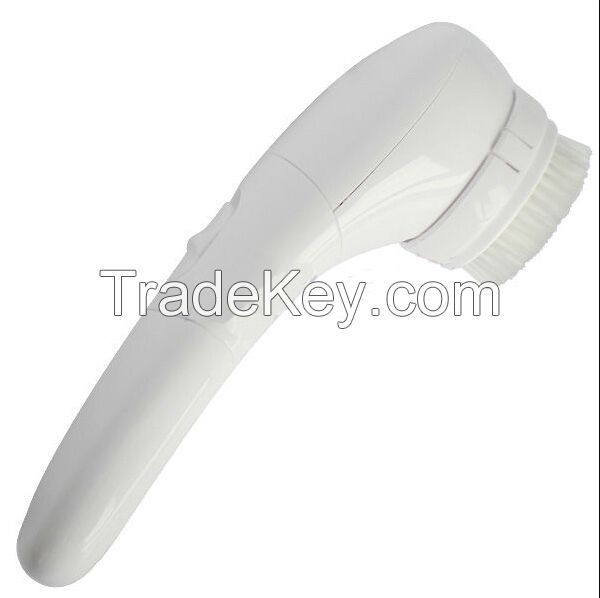 Features and Functions:
1. Releasing a gentle, frequent shock to achieve the effect of deep cleansing.
2. Water-resistant for bathroom usage
3. Beautiful, practical and affordable with novel design and exquisite packing; light and small, easy to carry; easy and safe to operate.
4. Various attachments selectable:
a) SENSITIVE BRUSH, extremely soft bristles, gentle enough for most sensitive skin types.
b) DERMABRASION BRUSH, used to peel off dead cells on skin to reveal a fresh and youthful face.
c) SPONGE, leaving your skin feeling ultra soft.
d) WRINKLE REDUCER, gentle massage on wrinkle area for more tight skin and much reduced wrinkle lines.
e) STORAGE CRADLE, making storage easier.
 
Specifications:
1. Power supply: 3V, 2pcs AA batteries (not included)    2.Unit size: 168*55*55mm
3. Unit weight: around 110g    
4.Material of main case: ABS
5. Gift box dimension: 205*140*55mm
6.Accessories: 4 replaceable applicators(sensitive brush, dermabrasion brush, sponge, wrinkle reducer),1 instruction
 
Preparing the unit for usage:
Press on the key and draw out the battery cover.

Insert 2pcs AA batteries inside the unit, match the +/- symbols on the battery with the +/- marks on the battery case.( For a longer running time, it is recommended to use Alkaline batteries)
            Notes: Please make sure your hands are dry when inserting the batteries
     3. Install the battery cover well.
Operations:
Simply attach either applicator to the massager and place it on the place you want. Different applicator gives you different relief to your body. You may choose based on your interests. It can activate your skin to have more healthy appearance.
Cleaning and Storing:
1. Clean the unit and all the applicators each time after usage.
2. Do not use any alcohol, acetone, petrol, abrasive cleaning agents, etc. to clean the plastic parts.
3. Rinse the brush and sponge with warm water. Mild soap can be used for thorough cleaning.
4. Use a dry cloth to clean any residues remaining on unit body. Let all the parts air dry before storing.
Attention:
If the unit is to be disposed for long time, make sure to take out the batteries.

Do not press any attachments too hard to your skin to avoid obstructing the units effectiveness.

Regular cleaning of the appliance ensures optimal results and a longer life.

Keep the appliance away from children.

Use, for example, a headband to keep your hair away from your face in order to prevent your hair from getting tangled in the brush.

Do not use abrasive cleansers or chemicals to clean any part of this device.