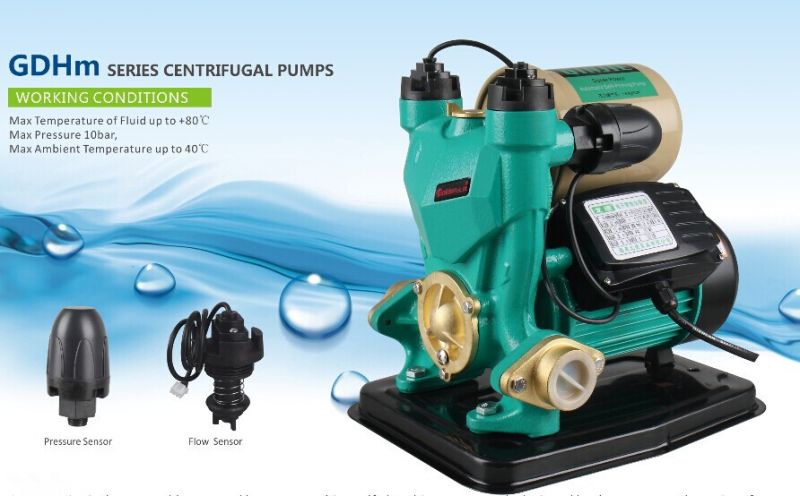 Product use 
GDHm series is the auto cold water and hot water turbine self absorbing pump newly designed by the company. The series of electric pumps is widely used in living water taking, water taking form bottom of wells, press-uring of tap water, The pump can work in a highly efficient high-voltage, it provides premium quality service to individual users, the latest pumps are reflected the characteristics in any details.



Advantage  
PC chips are fixed.the high-tech intelligence operation of water pumps is realized for the firt time.
As the pressure control system enters the status of of protection, it Automatically shifts to the flow control system to ensure normal water supply of the water pump.
 
Pressure switch or pressure sensor 
The size of pressure determines the pump on or off.when the pressure of the water pipe is less than the lower Limit of the switch ,the pump running;when the pressure of the water pipe is great than the top limit of the wsitch ,the pump stops running.the supper and lower limits of the switch can be adjusted within the adjustment rang.microswitch silent startup and more reliable.

Working Conditions
(Electric pump should be able to work normally and continuously under the following conditions)
1、GBHM type transmission medium temperature of not more than 0-100℃
2、Medium PH value between 6.5-8.5
3、The solid impurities in the volume ratio no more than 0.1%,particle size less than 0.2mm
4、Then power frequency is 50Hz,voltage of single-phase AC 220V,380V three-phase AC.Voltage fluctuation range of 0.9-1.1 times the rated value
5、when then temperature is below 0.℃,should make anti freezing,when the pump is not use,open the waterproof screw on bottom of the pump body,drain water,in order to avoid cracking of pump body.
Resereve:Before automatic use,make sure the pipeline without leakage.