K Cup with Filter for Keurig.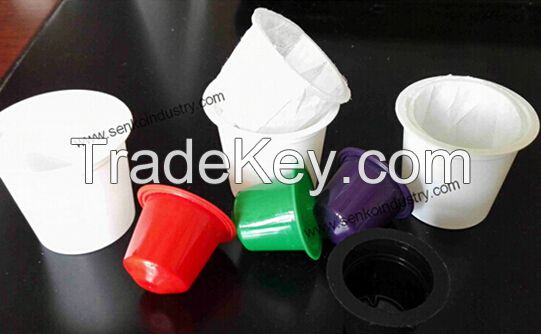 E
mpty k cup Specification:
1. Materials: PS/PE/PP+EVOH
2. Keurig k cup, cheap coffee k cups food grade A, Eco-friendly, no plasticizer
EVOH inside,Coextru-lamination
3.We provide Nespresso coffee capsule, Kcup, aluminum foil lids, filter, etc, whole set.
This filter holder is done in special way to resist the efforts of sealing and put into the cup.
With a weight less of 1 gr. To economize the final cost and protect the environment.
Special design to keep the space between one and other in order to give enough space to our filling and sealing machine to drop this and press this into the capsule.
With special design to seal the paper not only in the top and not only in the side, allowing the machine to seal the paper in the top and side making one to increase the resistance of the seal and paper to support more pressure.
Easily location during the packing and the producing, to save the cost mostly.