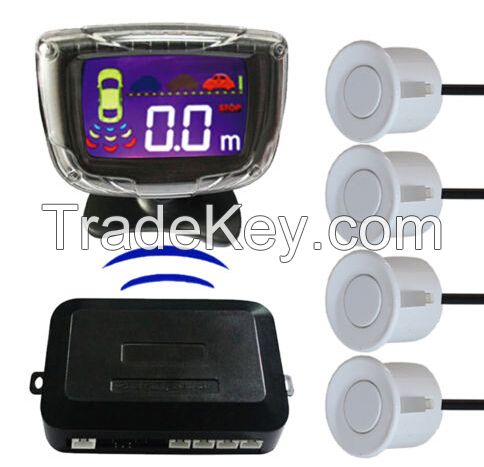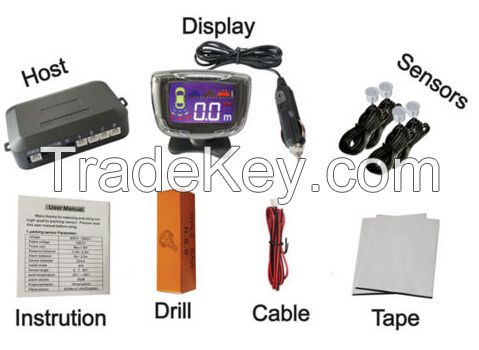 Features:
1.The radar connect with host by wireless link,3.5inch LCD screen powered by the power of cigar lighter,DIY operation.
2.LCD screen with three color strips:red,yellow and green, to remind you the safe distance when backing up.
3.The alarm has three stages,1.0-2.0m,slowness;0.6-1.0m,commonly;0-0.4m :BI BI BI BI -----
4.The screen display the safe distance when backing up according to color strips and dynamic car icon,makes it easier to park your car
5.The probe is waterproof,with flat detection angle and 20000 times life,several kinds of color to choose,one year warranty.
Parameters:
voltage  9DCV-15DCV
Rated voltage 12DCV
Power cost Max 0.5W
Respond distance 0.3m-2.0m
Alarm distance 0m-2.0m
Display mode Lcd display
Sensor diameter 22mm
Install mode drill
Sensor angle X,Y,60degree
work temperature -30---+80 degree centigrade
Alarm type Buzzer
Alarm type Buzzer (Bi Bi….)
FM power 10mw
FM Frenquency 433MHZ
alarm volume 65dB
Alarm frequency 1.6-2.0m:0.5 HZ(slowness);;1.1-1.5m :1 HZ(slowness);
0.6-1.0m:3 HZ(commonly); 0-0.4m :BI----- ;