1.usage and feature
1.Spacious and comfortable room for maneuver,the driver according to their space,suitable adjustable of the seat, so that steering more comfortable.
2.The electric power steering,cornering control light,reliable,ease,in a narrow space with good maneuverability indeed.
3.The combination of ergonomic steering lever,reasonable and controllable lifting speed ,so smooth operations,improve work efficiency.
4.Vehicle compact,concise,easy manipulation,smooth,vision .
5.High quality and comfortable,adjustable front rear seats,enhanced driving comfort,a sense of stability.
6.Designed for total control of the switch(when the park closed),charing convenient and practical interface,can be charged under different circumstances. 
 
7.Compact and practical models can be relaxed in a narrow space and flexible movement,reduce labor operating costs.
8.Safe and reliable protection roof rack,reducing operator stress,top mounted LED lights,turn signals,practical and beautiful.
9.Low cost to complete the arduous work
10.A variety of unique and innovative capability lets you get high efficiency output.
2. ITEM                             SPECIFICATIONS                             
Overall height fork raised(with backrest)  4105mm
Max lifting height                      3000mm
Overall height(fork lowered epright)     2075mm
Backrest height(from upper face of forks) 1150mm
Free lift                                1500mm
Fork thickness                          45mm
Min.under-clearance(bottom of mast)    130mm
Overall length(without forks)            2760mm
Overall length(with forks)               3830mm
Fork length                            1070mm
Fork overhang                           490mm
Wheel base                            1760mm
Rear overhang                          510mm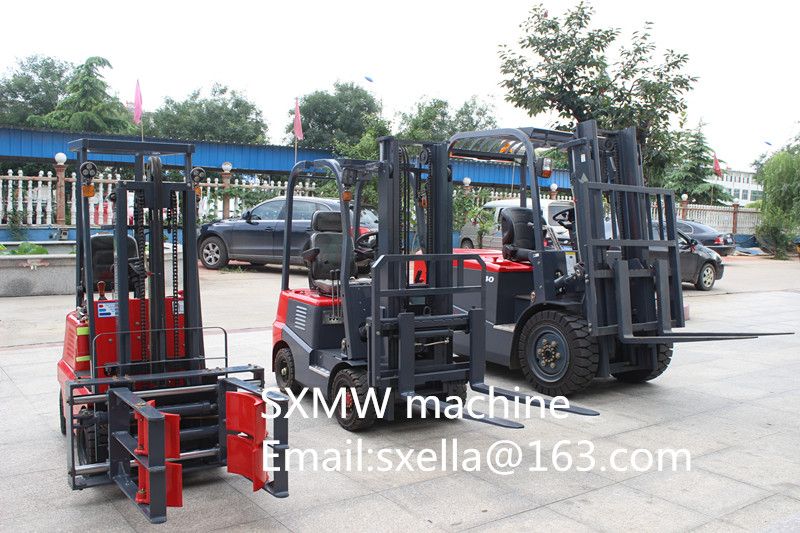 3.
OUR ADVANTAGES
1.
Competitive price
—
We are professional  manufacturer of
diesel engine forkift and electric forklift,
in the past year of 2018, around 100
units
forklift
 had been exported to different  countries. So you can rest assured about our quality and after sales
2.
Quick response
—our team is consisted of a group of diligent and enterprising people, working 24/7 to respond client inquiries and question all the time, most problems can be solved within 12 hours.
3.
Fast delivery
—Normally it will take more than 15 days for manufacturers/factories to produce the ordered machines, while we have a variety of resources, locally and nation widely, to receive machines in timely manner. In 70% circumstance, we can have an immediate delivery of regular machines for our clients.
4.
WHICH PAYMENT TERMS CAN WE ACCEPT
Normally we can work on T/T term or L/C Term,
On T/T Term, 30% Down payment is required in advance and 70% balance shall be settled before shipment, or against the copy of original B/L for old client.
On L/C term, a 100% irrevocable L/C without Soft clauses can be accepted. Please seek the advice from the individual sales manager whom you work with.
5.
WHICH INCOTERMS 2010 TERMS CAN WE WORK?
We are a professional and sophisticated international player, can handle all incoterms 2010 terms. And we normally work on FOB, CFR, CIF, CIP.
6.
HOW LOONG WILL OUR PRICE BE VALID?
We are a tender and friendly supplier, never greedy on windfall profit. Basically, our price remains stable through the year. We only adjust our price based on two situations.
The rate of USD:RMB varies significantly according to the international currency exchange rates.
Manufacturers/factories adjusted the machine price, because of the increasing labor cost and raw material cost.
7.
WHAT LODISTICS WAYS WE CAN WORK FOR SHIPMENT
We can ship construction machinery by various transportation tools:
For 90% of our shipment, we will go by sea, to all main continents, such as south America, middle east, Africa, Oceania and Europe etc, Either by container or RO-RO/Bulk shipment.
For neighborhood countries of china, such as Russia, Mongolia, Kazakhstan, Uzbekistan etc, we can shipment generators sets and engines by road or railway.
For light spare parts in urgent demand, we can ship it by international couriers service, such as DHL, TNT, UPS or FEDEX.