The bath salts are a perfumed with essential oils.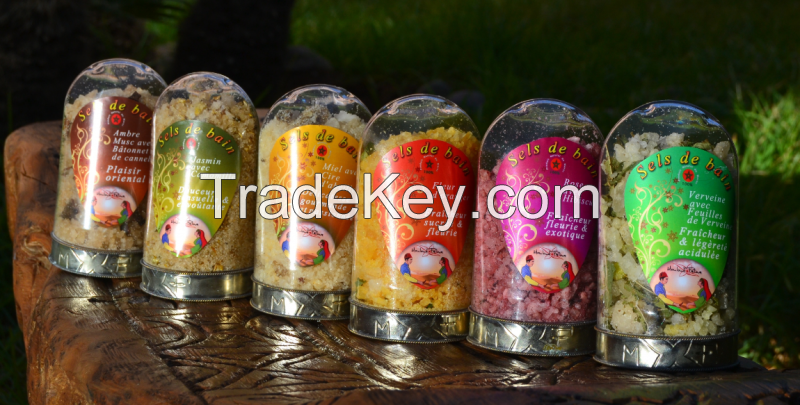 mixture of mineral salts added to the bath water. They are used to perfume, soften and circulate blood in the body. They encourage sweating, detoxifying the body and reducing pain and stiffness.
These crystals are rich in salt, an intense source of beneficial marine oligo-elements, to offer a deeply soothing and refreshing perfumed bath. It is used by melting it in the warm water of the bath. The action of sea salt allows a general relaxation and a feeling of well-being.
Actions
The BATH SALT offers a multitude of beneficial actions:
• Relieving muscle tension and muscle aches
• Remineralizing, toning and relaxing
• Eliminating stress and overwork
• Cicatrisant and disinfectant
• Anti-inflammatory.
Composition
(Ingredients)
Wholesale sea salt
Thin salt
Perfume
Manual
Prepare the skin by practicing a gentle exfoliation with a glove of wet Luffa. Fill the bath with hot water between 32 ° and 37 ° C maximum.
Sprinkle a sufficient quantity of BATH SALT in water according to the size of the bath and
Concentration (about 210g for a large bath).
Stir slightly to dissolve the BATH SALTS. Relax in the bath for 15 minutes
Minimal to the desired effect.
Can be used in a whirlpool bath. Do not stain the bath.
For external use only.

Bath salts Orange blossom:

It has a refreshing and recognizable aroma, spiced with sweet and flowery notes. Its benefits are:
• It regenerates the skin;
• It offers calming, refreshing and soothing actions;
• It has lightening effects that restore radiance and light to the complexion.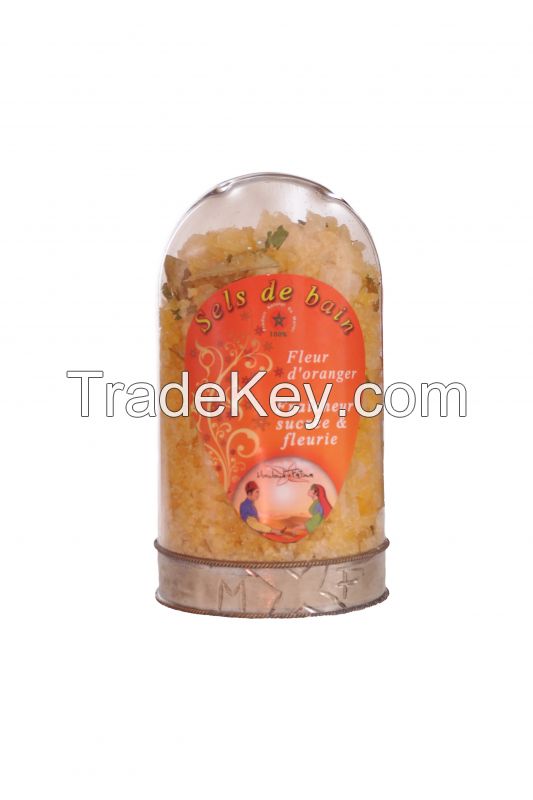 Bath salts Lemon Verbena:
Lemon verbena is an aromatic shrub that blooms in summer and autumn, it is widely recognizable thanks to its pleasant perfume which emerges from the leaves.
Its virtues are the following:
• It exerts a firming action, it is an anti-cellulite product par excellence;
• It is soothing and softening, so it is suitable for sensitive and delicate skin.
Jasmin bath salts
:
Jasmine is a very popular flower, appreciated for its beauty and perfume, it also has many therapeutic virtues. Jasmine is known above all for its enchanting fragrance and the beauty of its delicate white flowers.
Its virtues are the following:
• Jasmine brings a delicious fragrance. It is mostly used as a "toning balancing" in skin care products, which means it is used as a soothing and restorative agent.
Bath salts with Honey
:
Organic honey is produced 100% in the traditional itinerant beekeeping of Morocco. Faithful allied to the skin and the scalp, used for its varied virtues:
• It moisturizes the skin, thanks to its richness in sugar, it facilitates the fixation of water molecules;
• It is anti-irritant, soothes sensitive skin;
• It has regenerative and softening properties since it is very rich in mineral substances, vitamins and amino acids.
It can be used in children as well as in adults. The sweet and sweet scent of honey pleasantly perfumes our products.
Bath salts Amber and Musk:
Amber is a very fragrant substance, solid, oily, flammable, of color varying from gray to blackish and with specific odor. It has many therapeutic properties:
• It helps to activate the blood circulation;
• It is very effective against the effects of fatigue and stress.
Musk is one of the few natural animal materials used in perfume. Very esteemed for its exquisite odor, it can be used for both men and women.
Its captivating scent reminiscent of the charms of the orient and sensuously perfumes our products.
Bath salts Rose de Dads
:
Rose is one of the specialties of the region of Ouarzazate in the south of Morocco, more specifically in the valley of the Dades, called Valley of the roses.
Recognized for its cosmetic and therapeutic virtues, it provides a perfect soothing and regeneration of the tissues and it helps to prevent the appearance of wrinkles and to erase the signs of fatigue.