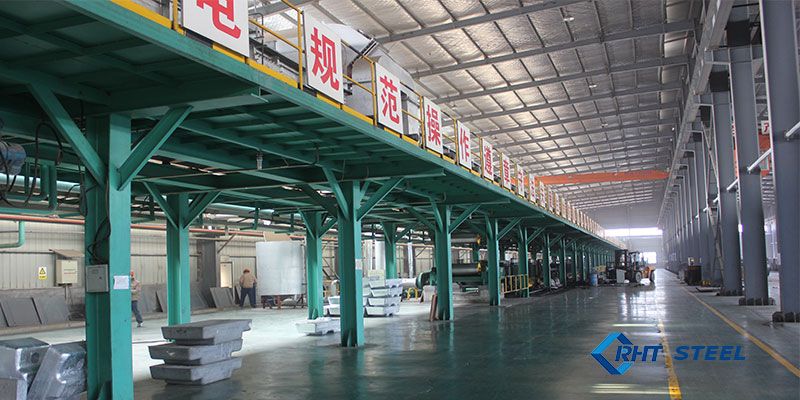 Company Profile
 
We make superior quality of PPGI and PPGL.
Qingdao R.H.T Steel Co., LTD is a leading manufacturer of galvanized and pre-painted steel with specialist experience. Our factory is located in Shandong, China, It holds advanced two galvanized steel production lines with annual output of 400, 000 tons, three pre-painted galvanized steel production lines with annual output of 300,000 tons and two pre-painted galvalume steel production lines with annual output of 250,000 tons.
R.H.T Steel insists on strict quality control.  
We use top quality hot dip galvanized steel coils as base sheet and strictly selected coated paint which all achieves public praise in China. Moreover, we have attained ISO9001 certification, which gives quality promise to customers and competitive advantage for our company. 

With a wide range, good quality, reasonable prices, our products are extensively used in metal roofing, sandwich panel, clean room panel, cold room panel, cable armouring, household appliances, and other industries. Our products are widely recognized and trusted by users and can meet continuously developing economic and social needs.

Everyday R.H.T dedicates its effort to providing high quality products and best service.

With a strong and reliable track record, R.H.T is well positioned to continue to deliver excellent solutions to  customers and stay in the forefront of this fast-evolving industry.


Process Flow Chart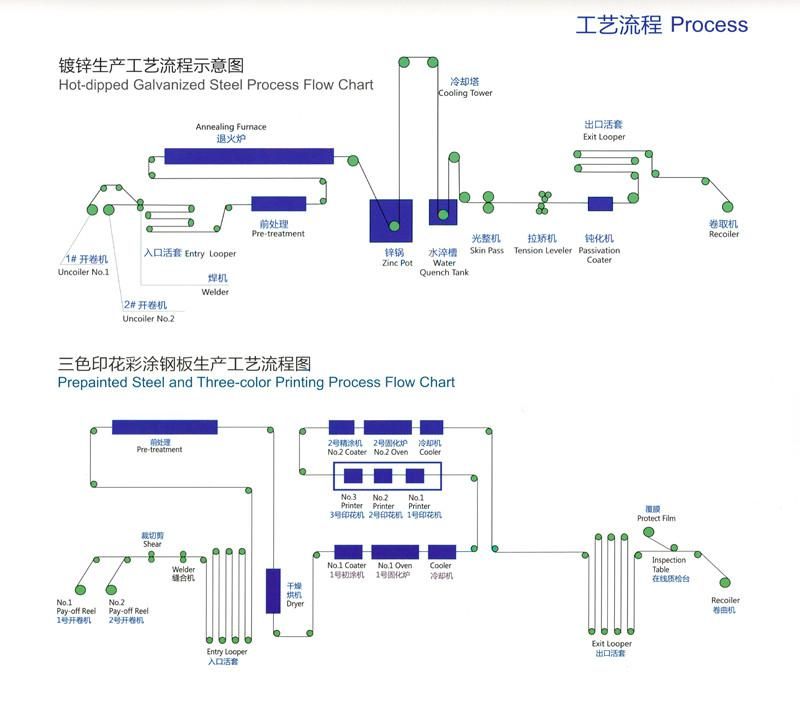 Coating Details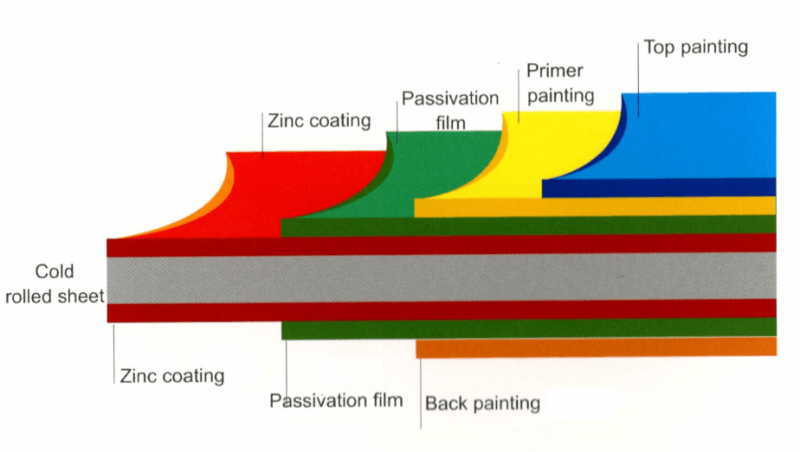 Technical Data Sheet

 
Raw material

SGCC, SPCC, DC51D, SGHC,A653

Certificate

ISO9001.ISO14001.OHSAS18001

Thickness

0.16mm-1.2mm

Width

600mm-1250mm

Tolerance

thickness+/-0.01mm

Surface treatment

galvanized / galvalumized steel sheets

T Bending (top-coating)

T Bending (back-coating)

≤3T

≤4T

Anti-MEK Wiping

≥100times

Zinc coating

40-180g

Type of coating process

Front: double coated & double drying

Back: double coated & double drying, single-coated & double drying

Coating types

Top paint: PVDF, HDP, SMP, PE, PU

Primer paint: Polyurethane, Exoxy, PE

Back paint: exoxy, modified polyester

Color

customized

Application

Buildings and constructions, Electrical appliances, Agricultural equipments,  Vehicle parts

Advantages of Our Prepainted Galvanized Steel Coil
1.Resistance to acid rain

Coating protection mechanism : It is very easy to form acid rain in the high level of industrial emissions or pollutants enviroment. Acidic penetration is formed in the surface of pre-painted steel, and accelerates the corrosion, forming blistering, peeling and so on.

2. Resistance to ultraviolet rays

Coating protecting mechanism: Pre-painted steel in ultraviolet or strong sunlight conditions, the coating will exhibit chalking degeneration, manifested as discoloration and loss of gloss, lose paint quickly.

3. Resistance to humid heat

Coating protecting mechanism : In it and humid environments, high osmotic pressure ot water vapor accelerates penetration, forming the degeneration of painting film, then the corrosion of the substrate, with the phenomenon of bubbles and peeling.

4.Resistance to low temperature

Coating protecting mechanisms: Most of the paint can keep stable processing performance above -10 degree, but at alpine region, the temperature will be below 20-40 defree, normal paint will become brittle, bend cracking, or even lose paint, thus protection function is lost totally.

5.Dual strong

Intense hear reflectance: RHT pre-paint steel uses aluminum zinc substrate, the reflectivity is two times stronger than galvanized sheet, therefore they are the ideal energy saving materials.

Intense skin-pass surface: After skin-pass process, RHT galvanized steel substrate overcomes the common tension leveling lines and the surface is flat and smooth.


Pictures