Weihua Group began its construction in 1988 and after efforts of 20 years it is now a large-scale enterprise group with integrated business of crane research, development, design, production, sales, installation, service and import and export. It has formed strong and comprehensive innovative system with complete set of advanced equipments and large-scale production ability in the fields of mechanic procession, thermal treatment, soldering, assembly, test, measuring, packing and delivery. Main products include more than 200 types of products of 9 series such as bridge crane, gate crane, port machine, electric hoist,Ship-to-shore crane (STS) and steel structure which are widely applied in machinery, metallurgy, power, water conservation and utilization and port industries. The product is very popular in domestic market and foreign market.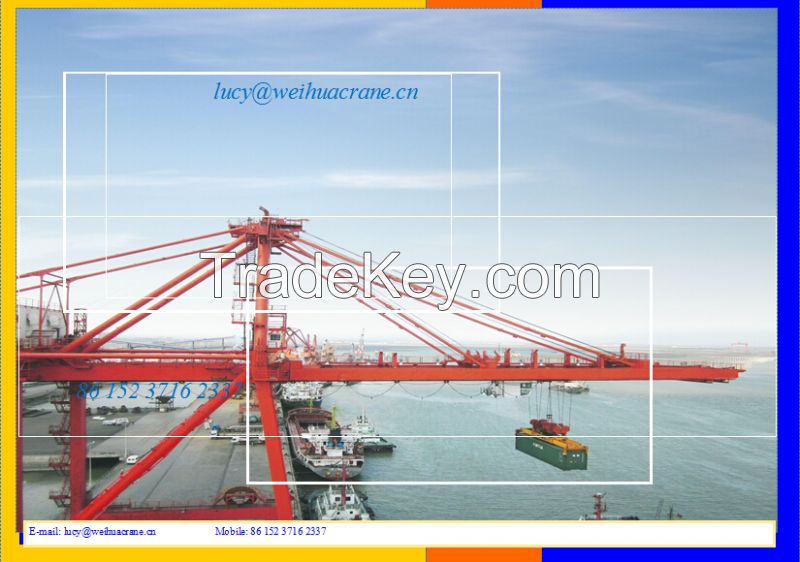 Due to the development of world economy, the requirement to the industry of machinery has been higher and higher. WEIHUA group develops a high quality of Ship-to-shore crane (STS) according to the requirement, which is used to load and unload the containers of the docks, and it is the heart of docks and port trade. The ship-to-shore crane increase the productive efficiency by 50% compared with the traditional one, and has become the replacement products of the containers cranes.
Ship-to-shore container crane (hereinafter referred to as land bridge) is a main equipment to load and unload container between the ship and dock.  Several certain docks shall do a direct container terminal operation with the STS advantage of large span and large radius. The loading and unloading capacity and speed shall directly determine the working efficiency of a dock. So a ship-to-shore container crane is main equipment in dock. With the vigorous development of container ship and the constantly update of technology, the development of ship-to-shore container crane is moving toward large-scale, quick running, automation and intelligent, and high reliability, long life, low energy consumption, environmental protection direction.
 
Item 
Technical Pharameter
 Rated lifting capacity
35-80t
    Outreach distance
25-70m
         Backreach distance
8-28m
              Track Gange
14-42m
        Lifting Height
Up track
10-45m
Below track
12-18m
  Mainlifting Speed
Full Load
40-90 m/min
No Load
70-150 m/min
 Crab travelling speed
120-300 m/min
 Gantry travelling speed
25-60 m/min