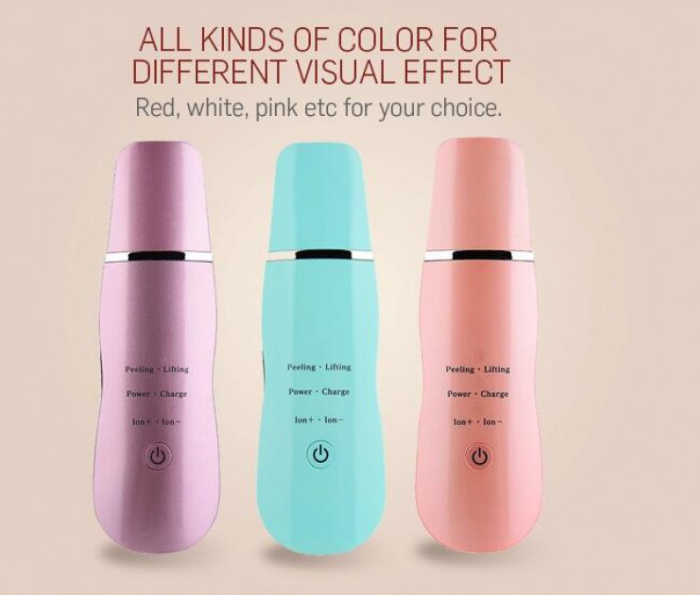 Specification & Operation
1. Short press Power to turn on the device, long press for 3 seconds to turn off the deivice.
2. Press the Power once, 3 red indicating light flashes. The device in standby condition.
3. Press the Power again, goes into peeling and cleaning mode and working continiously, with Blue led therapy.
4. Press the power the third time, goes into Nutrition penetration mode. The red light in the middle flashes.Device works in a intermitment mode, with blue led therapy.
5. Press the power the fourth time, goes into Positive ion mode, device continious working and emit positive ion, with blue light therapy.
6. Press the power the fifth time, goes into negative ion import mode, scrubber continious working and emit negative ion, with led light therapy.
7. Press the power the sixth time, devices goes into standby condition.
8. Only one key for operation.
Ultrasound
Ultrasound is a high-level sound wave technology that penetrates deeper than the derma layer. In the skin it increases the temperature of the surrounding tissue, thus increasing oxygenation to the cells, stimulating collagen protein and aiding in the removal of waste products.
This is an anti-bacterial cleansing action. It benefits the skin by stimulating blood circulation, diminishing fine lines and wrinkles, clarifies acne and blemishes and can also eradicate irregular pigmentation and redness. 
ION+ & ION- 
IONS deeply cleaning the skin of impurities can cause a dull and lifeless appearance. This process happens when negatively charges IONS attract and encapsulate toxins, preparing them to be removed. Following up on this, the positive IONS work to attract the encapsulated impurities from deep skin.
No only this treatment leaves the skin thoroughly clean, but also improves oxygenation and circulation, which promotes cellular health and helps to stave off free-radical damage and premature ageing.
The peeling treatment delicately exfoliates with tiny ultrasonic vibrations removing dead skin cells and dirt from within the skin. The skin feels immediately smoother and softer.Press power three times to select ION+ & ION- continuous working mode; press four times to select the pulse working mode of ION+ & ION-.