1.Two sets of control systems 
2.LCD display 
3.Optional remote communication 
4.Certificates: CE & Patent 
on grid wind solar hybrid system Schematic Diagram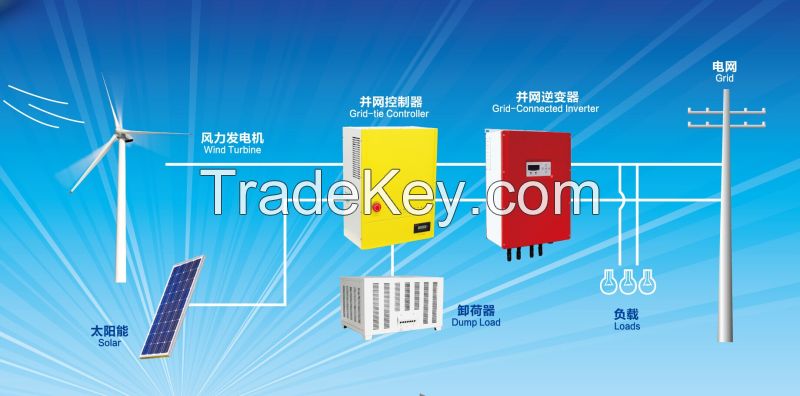 Product Overviews
FKJ-GT(Grid-tie)model Product Characteristics
1.The product is manufactured according the JB/T6939.1-2004 industrial standard and GB/T 19115.1-2003 national standard also with users technical requirements.
2.Two sets of control systems:PWM constant voltage system and three-phase dump load system.
3.PWM constant voltage control is 120% of the rated power of the wind turbine. In case exceeding of PWMs capacity, the three-phase dump load will automatically start immediately. After 10-20 minutes, the three-phase dump load will stop and the wind turbine will re-start to resume power supply to ensure the safe running of the overall wind turbine generation system.
4.Under the strong or super-strong wind conditions, the controller can conduct constant voltage output to ensure the inverter safety running.
5.Under the condition of disconnected grid-connected inverter, the controller can conduct constant voltage output and wait for inverter resumption.
6.The three-phase dump load of the controller will automatically start and the inverter will stop grid output when the power grid is off. As soon as the grid power resuming, the controller stops three-phase dump load and the inverter will resume power supply.
7.For the different wind turbine generator type, the controller can be equipped with mechanical yawing, furled empennage, mechanical or hydraulic, pneumatic, electric magnetic and other brake functions.
8.The inside of the controller is equipped with surge arrester. Contain the over voltage into the wind turbine under the bearable voltage of the equipment or system. On another way, to conduct the strong lightening current into the earth directly to avoid any damage of equipment.
9.The below LED status indication can be found on the front panel: indications of wind turbine, dump load, three-phase dump load delay time, under pressure, grid power and DC output voltage.
10.Voltmeter indication: Indicate the controller DC output voltage.
11.The controller is equipped with emergency stop switch; in case of emergency, press down the emergency stop in the front panel to cut off all power supply of the controller and the wind turbine will immediately carry out three-phase dump load.
12.The controller is equipped with manual three-phase dump load switch. To using this switch, the wind turbine will carry out three-phase dump load forcibly.

Product Picture: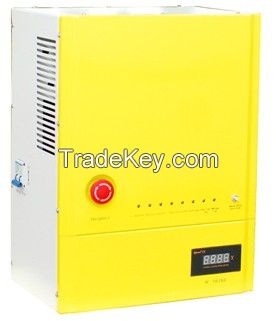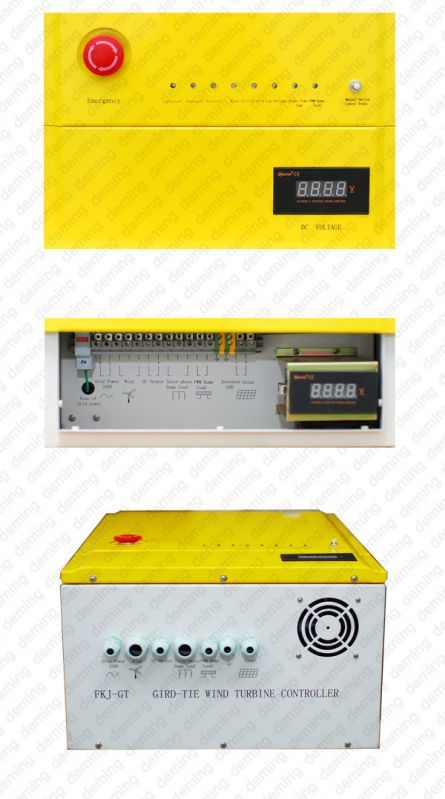 Technical Data sheet of the on grid wind solar charge controller 5KW-10KW-15KW 
 
Type

5KW

10KW

15KW

Wind turbine rated power

5KW

10KW

15KW

Wind turbine Max. power

10KW

20KW

30KW

Solar panel power

1.5KW

3KW

5KW

Function

Rectifier

,

charge, control

Display mode

LED

Display content

DC output voltage,

PWM constant voltage

≥420dc

≥520dc

≥600dc

wind turbine 3-phase dump load voltage

450±5Vdc

560±5Vdc

650±5Vdc

Time-lapse of the wind turbine 3-phase dump load

12-20 min

12-20 min

12-20 min

Low-voltage

≤200Vdc

≤200Vdc

≤200Vdc

Solar panel fuse

16A

20A

10A

PWM dump load fuse

20A

32A

40A

Fuse of DC output

20A

40A

50A

Work environment temperature

-30-60°C

Relative humidity

<

90% No condensation

Noise

(1m)

<

40dB

Degree of protection

IP20

(

Indoor

)

Cooling method

Forced air cooling

*Communication interface (optional)

RS485/USB/GPRS/Ethernet

*Temperature compensation (optional

)

-4mv/

°C

/

2V,-35

°C

~+80

°C

,Accuracy:

±

1

°C

Size of the controller (mm)

560*430*320

650*470*320

650*470*320

Weight of the controller

20Kg

25Kg

25Kg

Size of the dump load (mm)

670*520*460

760*520*550

760*520*550

Weight of the dump load

28Kg

38Kg

38Kg